By Bruce Sussman
Tue | Apr 10, 2018 | 1:52 PM PDT
Facebook was started by a 19-year-old college kid.
Now, he's all grown up and testifying before Congress.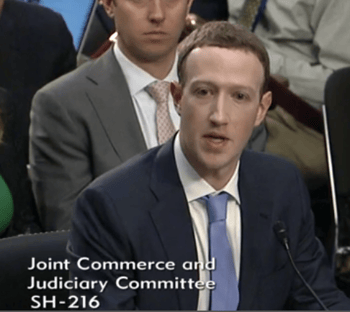 Here are five revealing statements that came from Mark Zuckerberg during the Facebook founder's testimony before the U.S. Senate on April 10, 2018.
Facebook's biggest mistake: "It was not taking a broad enough view of our responsibility. We focused on just building tools instead of looking to see if tools are being used for good."

Russian investigation: Facebook is working with special counsel Robert Mueller's office in his Russia investigation.

On a breach notification policy: Senator's question: "Would you support your users be notified of any breach within 72 hours?" Zuckerberg's answer: "That makes sense to me."

On government regulation: Senator's question: "What are we supposed to tell our constituents when they ask us why we should allow you to self-regulate?" Zuckerberg's answer: "I think the real question is, what's the right regulation? Not, whether we should be regulated at all."

Zuckerberg played the humble card: "It was my mistake and I'm sorry. I started Facebook, I run it, and I'm responsible for what happens here."
Not all of the senators bought the apology, however, because about two hours after Zuckerberg gave it, one of the senators displayed a sign of Zuckerberg's previous apologies when Facebook had faced criticism:
(Image credit: CBS News)
The former apologies by Zuckerberg include:
"This was a big mistake on our part and I'm sorry for it." - 2006
"I'm not proud of the way we've handled this situation and I know we can do better." - 2007
"I'm the first to admit that we've made a bunch of mistakes." - 2011
Also, one senator says he believes Facebook was reckless because the app that got Facebook's data and sold it to Cambridge Analytica had the following terms of service:
"You permit GSR to edit, copy, disseminate, publish, transfer, append or merge with other databases, sell, license... and archive your contribution and data."
Of course, Facebook may not have read the terms of service agreement, and Zuckberberg said he doubts very many people read all the way through Facebook's own terms of service, either.
That is probably true. Just last week, SecureWorld keynote presenter Rebecca Herold, The Privacy Professor, made the point that most Americans are unaware of the terms they are agreeing to, including privacy terms.