By Drew Todd
Tue | May 4, 2021 | 12:05 PM PDT
The Alaska Court System (ACS) is seeing red.
And so would you if you visited their website today.
A recent cyberattack has forced ACS to temporarily disconnect its online services while removing malware from its servers, including its website and CourtView system that is used to look up court records.
While the court says in a written statement that it "does not believe any confidential court documents or employee information has been compromised," it will certainly cause some pain until everything gets straightened out.
Here is Alaska Supreme Court Chief Justice Joel Bolger on the cyberattack:
"Today, we were advised that there did appear to be some attempts to infiltrate the court system's computer system. And so we figured out a way to disconnect from the internet to stop the problem to prevent anyone from continuing to try to tinker with our network.
I think for a few days, there may be some inconveniences, there may be some hearings that are canceled, or some judges who decide to shift from videoconference to teleconference proceedings or the like. We don't have all of that figured out yet.
I think we caught this in the very early stages. I don't know the motivation of the actors."
Bolger also mentions that of the court system's 3,000 computers, only a "handful" have been compromised.
Alaska Court System struggles without online features
The cyberattack has forced ACS to adapt quickly.
Due to the ongoing pandemic, court cases were being handled online through video conferencing. Now, they are switching to phone calls, though this is not the only aspect of the court's operations that is impacted.
ACS tweeted out the below graphic to provide information on what is currently available and unavailable.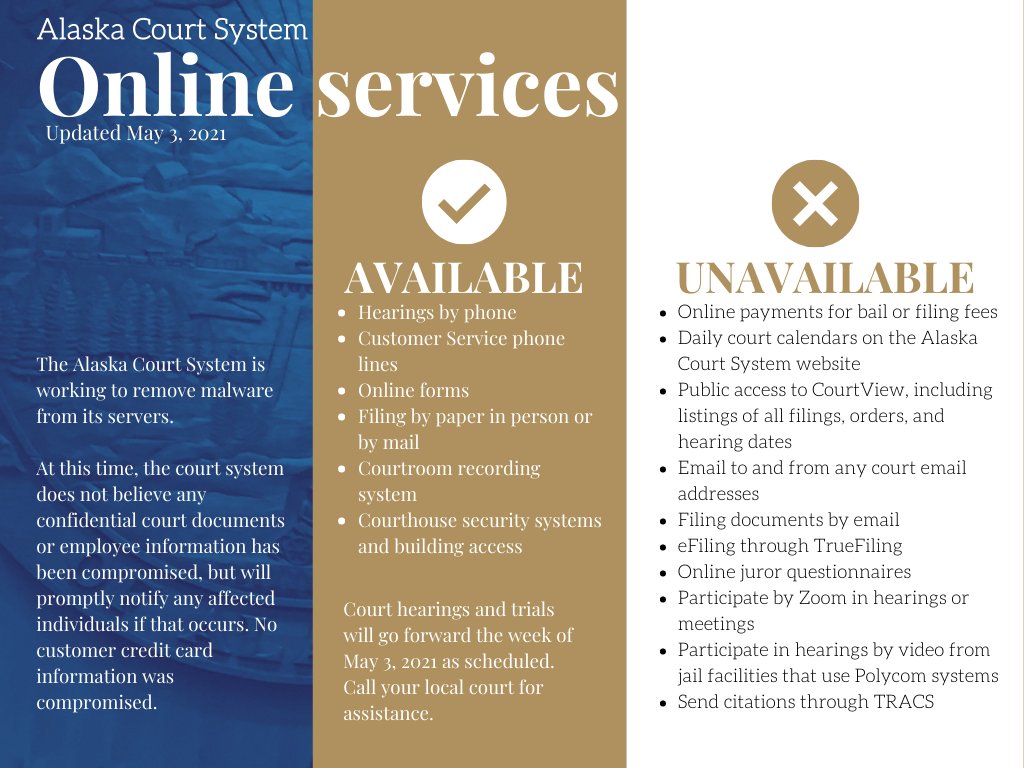 Cyberattacks continue to be a major problem
This incident is just the latest example of cyberthreats against governmental organizations.
Although not confirmed in this case, ransomware attacks have increased enormously over the last year across the public and private sectors.
There is no doubt the pandemic has made a bad problem worse with so many people working remotely and utilizing online platforms.
So, what is being done to combat this ever-growing problem?
The newly formed Ransomware Task Force, which includes experts from organizations like Amazon and Microsoft, aims to combat ransomware and find some kind of solution to this problem.
In a recently released report, the task force provided some haunting statistics of ransomware attacks:
The average downtime due to ransomware attacks is 21 days.

The average days it takes an organization to fully recover is 287.

Victims paid $350 million in ransom in 2020, a 311% increase from 2019.

The average ransom payment was $312,493, a 171% increase from 2019.
[RELATED: 5 'Foundational and Urgent' Recommendations to Kill Ransomware]