By Clare O'Gara
Wed | Aug 7, 2019 | 11:40 AM PDT
Has the relationship between ethical hackers and the U.S. government improved in recent years?
The votes are in, and the verdict is... yes. According to a Washington Post poll of cybersecurity experts, 72% believe things have improved in the past six years: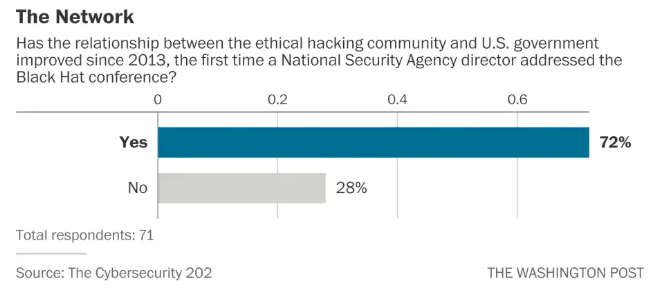 If you need a refresher, 2013 was also the year Edward Snowden revealed the massive surveillance program being conducted by the U.S. National Security Agency (NSA) and the Five Eyes Intelligence Alliance.
So this response might seem a little surprising. But The Washington Post broke it down:
Over the past six years, the U.S. government has made a greater effort to work with ethical hackers and to shield them from legal jeopardy, most respondents said.
"Only the purely cynical could say that this relationship has not improved," said Joe Hall, chief technologist at the Center for Democracy and Technology.