By Clare O'Gara
Mon | Jul 27, 2020 | 8:18 AM PDT
The company is calling it an "outage." The employees are calling it a ransomware attack.
Either way, it's rough news for athletes and fitness hobbyists.
Smartwatch and wearable developer Garmin announced a multi-day shutdown of company services to perform maintenance amid a cyberattack.
What do we know about the Garmin ransomware attack?
The decision involves shutting down the official website, the Garmin Connect user data-syncing service, Garmin's aviation database services, and even some production lines in Asia.
Many trying to reach the site found this image instead: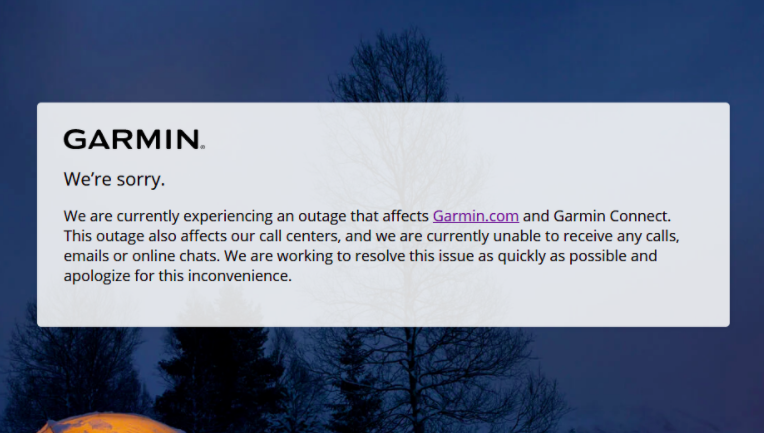 Garmin went into more detail about the attack on Twitter, calling it an "outage."
"We are currently experiencing an outage that affects Garmin Connect, and as a result, the Garmin Connect website and mobile app are down at this time. This outage also affects our call centers, and we are currently unable to receive any calls, emails or online chats. We are working to resolve this issue as quickly as possible and apologize for this inconvenience."
The incident has sparked outrage amid Garmin customers, who are unable to track their workouts through their Garmin device. Wearables like Garmin are vitals tool for competitive athletes who need to track their performance.
Luckily, one Twitter user offered an alternative logging option while services are down:
But that's not all. The "outage" also impacts flyGarmin, a web service that supports the company's line of aviation navigational equipment:
"Pilots have told ZDNet today that they haven't been able to download a version of Garmin's aviation database on their Garmin airplane navigational systems. Pilots need to run an up-to-date version of this database on their navigation devices as an FAA requirement. Furthermore, the Garmin Pilot app, which they use to schedule and plan flights, was also down today, causing additional headaches."
The nature of the attack remains unconfirmed by Garmin as of early July 27, 2020. But some unverified employees shared on social media, calling it a ransomware attack.