Generously Supported By:
Speakers
Rebecca Herold
CEO of The Privacy Professor,
Co-Founder and President of SIMBUS, LLC
Rebecca is Co-Founder and President of SIMBUS, LLC, provider of Information Security, Privacy & Compliance cloud services, and CEO of The Privacy Professor ® consultancy she established in 2004. Rebecca is a technology services entrepreneur, as well as an information privacy, security and compliance expert, consultant, author and instructor who has provided assistance, advice, services, tools and products to organizations in a wide range of industries with over 25 years of systems engineering, information security, privacy and compliance experience. She has authored 18 books and hundreds of articles. Rebecca appears monthly on the CW Iowa Live television show to raise public awareness of current information security and privacy topics. She led the NIST SGIP Smart Grid Privacy Subgroup for 8 years, and was a founding officer for the IEEE Par 1912 Privacy and Security Architecture for Consumer Wireless Devices Working Group. She has also been an Adjunct Professor for the Norwich University MSISA program since 2005, and is an Expert Witness for information security, privacy and compliance cases. Rebecca holds the following certifications: FIP, CISSP, CISA, CISM, CIPT, CIPM, CIPP/US, and FLMI.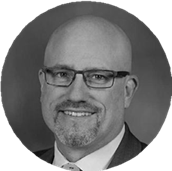 Robert Eckman
CISO,
Kent State University
Bob Eckman serves as Chief Information Security Officer at Kent State University where he leads an amazing team of information security and identity and access management to protect the State of Ohio's 2nd largest university in all things security. Prior to this role, Bob served as Security Principal and vCISO at MCPc Inc. a secured technology logistics and data protection company headquartered in Cleveland, Ohio. There, Bob guided MCPc's cybersecurity services, solutions and staff. He has over 25 years of experience in security, technology and project/program management. Prior to MCPc, he was the cybersecurity program manager for FirstEnergy's Nuclear division and served leadership roles at Progressive Insurance and Shearer's Foods. He holds adjunct professor status in cyber security at Kent State University and in 2016 was awarded an Outstanding Teaching Award. He also serves as an adjunct and Executive Director of Cleveland State University's Marshall Law College's Center for Cyber and Privacy. He has been recognized by the Ohio State Senate for his achievements in the classroom teaching undergraduate and graduate level cyber security courses at CSU Marshall School of Law and Kent State University. He holds an active PMP Certification and is an active member of ISC2 where he also holds his CISSP Certification. When Bob is not keeping people safe or teaching, he enjoys raising his family with his wife of 23 years and cycling. Each summer, he takes part in Pan Ohio Hope Ride which is a cycling event that raises almost $1M for the American Cancer Society and the Hope Foundation by riding a bike from Cleveland to Cincinnati, 328 miles, over 4 days.
Jason Hodgert
Product Marketing Manager,
Spirion
Jason Hodgert is a Product Marketing Manager at Spirion. Driven by a desire to connect modern innovation with real-world business requirements, he has brought his unique storytelling style to industries that include telecommunication, education, Earth observation, and machine vision. As the cybersecurity market sees unprecedented growth Jason has spent his most recent years helping forward-thinking organizations understand the strategies that match the appropriate mix of products and services with their real-world strengths and weaknesses.
Jen Mailander
Data Protection Attorney,
Fannie May
Jennifer Mailander is a data protection and technology attorney advising senior and executive management on strategy, business, and legal matters with extensive experience in data rights, cybersecurity, privacy and compliance. Before joining Fannie Mae in 2018, Mailander was Associate General Counsel of Privacy at ComScore and Associate General Counsel and Director of Compliance & Privacy at Corporation Service Company. She currently serves as Chair of the Association of Corporate Counsel (ACC) Women in the House (WITH) network and Co-Chair of the DC Chapter of The Quorum Initiative. Mailander holds a BA in English and Political Science from Miami University and a JD from the University of Dayton School of Law.